Série de 5 Portraits Indiens.
Résidence d'artiste en février 2020 avec le soutien de l'Alliance Française de Bhopal et de l'Institut Français d'Inde.
2021-2022 Expositions itinérantes FOOD MYTHOLOGY dans 5 villes Bhopal, Kolkata, Bombay, Bengalore, Hyderabad
Les cinq portraits indiens sont crées pendant 1 mois avec le photographe Varun Namdev. Ils mettent en lumière les aspects mythologiques de la culture Indienne, ses croyances, ses rites aux couleurs saturées. Totka est un rite qui consiste à suspendre un citron et 7 piments à une porte pour chasser les mauvais esprits.
English below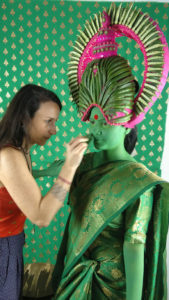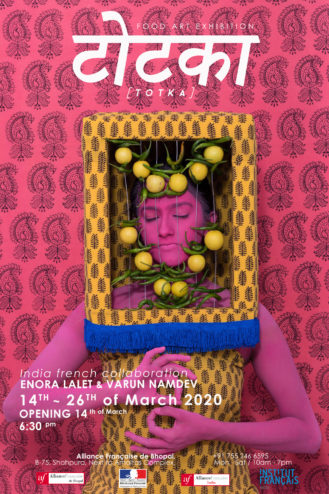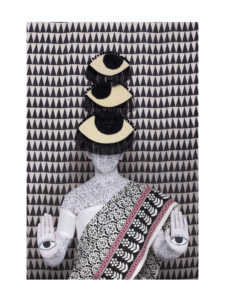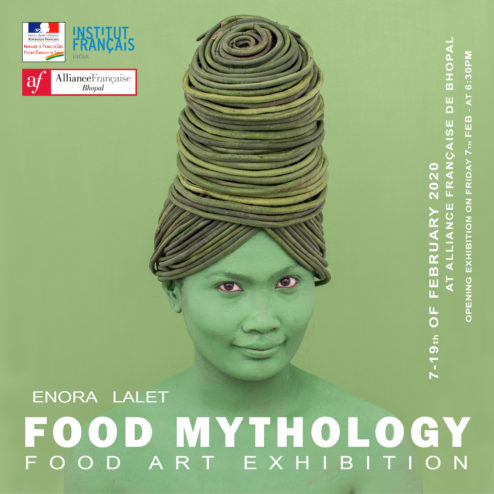 As far as I remember, India crystallized in it, all the existential mysteries, which are revealed into the eyes of the one who want to see.
The marvelous is everywhere and seizes every chance to be embodied in the smallest details of the daily life : in the small mountains of colorful spices, in the pattern of a sari, in the wide-eyed of Kali, in the rituals flowery protection, in the cacophony of the horns that never disturb the cows chilling on a four-way. It is about permanent saturation, a colorful epileptic score that forcefully invites our senses to a dance that we are not ready for.
India heckles our habits, upsets our rasas, whispers magnificent mythological stories.
The culinary world is not an exception through the power of mystery, testifying of a very ancient heritage, bequeathed by the Vedas, 7000 years ago; by the delicate balance of the 3 vital energies which go through our body.
When the Alliance Française de Bhopal invites me to work for an Art residence, it was evident : these 10 years of creating colorful creatures with cross cultures have one thing in common, they all take their inspiration from ancient India, through their multicolored skins, through their divines ornaments, through their flavor evoking ritual or offering.
As a child, the fascination for Balinese dancers of the Ramayana have always infused my artwork. That's why this series of Indian portraits is born as a certainty on the way of my creation. Inspiring approach were so abundant that it would have been impossible to explore all of it in such a tinny time.

Questioned by Totka, [protection ritual which consists in hanging 1 lemon and 7 green chillis at the entrance of a place to keep away Alakshmi, goddess of misery and poverty], I thought of the series as so: the realization culinary shrouds as a protective ritual. The Totka series contains all the nods to the symbols that were dear to me: the third eye, Gond art, protective mother earth, knowledge of ayurveda plants, temple offering, chakras, tribal dance and finally Shivatri. I have a great respect for all these mythological references. With regards, I add a final Namaste dedicated to my creative duo, the Indian photographer Varun NAMDEV.
Imaginary flavours, sweet freaks and fashion design: human offerings or edible mythology? This tribute to a collection of human dishes reflects our cultural contradictions : a human and culinary creation of a gastronomic universe filled with beliefs, taboos and gluttony where Modern and Tradition are meeting together. Recipes tell a story, makes us dive into emotional personal mythologies. However, behind this culinary pretext and one's personal interpretations, these pictures are full of innuendos about gender stereotypes, identity, the food crisis and the richness of mixcultures. Behind these messages the anxieties of a queasy society can well be hidden. Flavours make you travel, and travelling is also an important part of Enora's work. Her exhibitions are always a mix of cultures, colors, patterns and food has been her preferred material for 10 years. She has held international art residencies through the Institut Français and Alliance Française network (New Delhi (India) 2015, Bandung (Indonesia) 2017, Cartagena (Colombia) 2017), where the body and gastronomy intertwine in living sweet and sour pictures. She also create Hangging Buffets for festivals and openings; edible food installations where the public is a part of the happening. The exhibition Food Mythology is a mix of severals series created in different country and Alliance Française of Bhopal invite the artist for a new collection of Indian Portraits with local food, exhibited in March 2020.